Two To View – A Couple Of Amazing Videos You Don't Want To Miss

200-Yard Gong Shot
Four professional golfers try to hit a golf ball 200 yards across a lake into a nine-inch gong. Watch to see who makes it!

Young Fan Sings With Katy Perry
In this heartwarming video, Katy Perry sings "Firework" at an autism fundraiser with one of her biggest fans, a girl with autism.

4K TV Technology: What's the buzz?

<![if !vml]>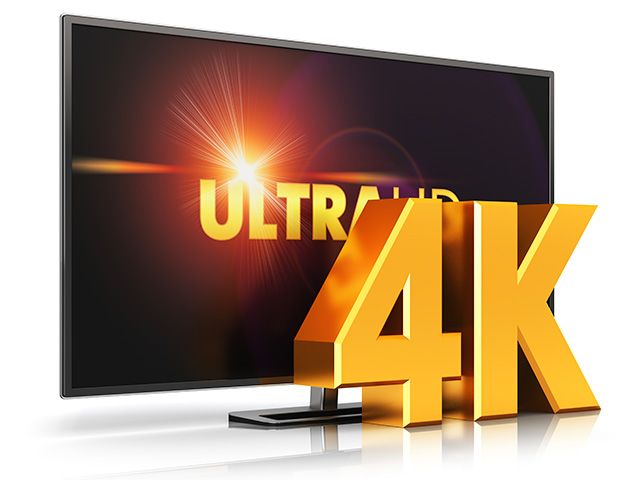 <![endif]>When did shopping for a TV become so complicated? From LCD, LED, 4K, HD, SD, and a long list of other specs for the consumer to understand, technology has made the buying process somewhat difficult. So, MVT wanted to give you some basics on what 4K really means and how it can improve your entertainment experience.

4K is also referred to as Ultra HD and offers the most stellar viewing experience:
4K has 4x the number of pixels as a standard HD picture.

The more pixels on a screen, the sharper the picture and the more details you will see. 4K has 8,294,400 pixels to be exact.

The screen won't be as fuzzy up close.

4K allows you to be in retina distance. You can sit closer and the same sized screen can fill more of your visual field, which equals a way better experience.

Large screens will look better.

Go big or go home right? Movie nights with the family just got better.

Brings other cool technologies to the table.

From High-Dynamic Range, Quantum Dot, and OLED panels, the 4K technology brings more than just a better image.
There are a number of brands that offer 4K TVs. Some of the top sellers in 2016 (per recent Tech Radar article) are Panasonic, LG, Samsung, Sony and Hisense (a new model out of the UK). You can now grab a smaller 4K TV for under $400 which is extremely reasonable from outlets like Amazon and Best Buy.

So what about content? There is not a ton of 4K content available but more and more is released every day. Top 4K providers currently are Netflix, Sony and Amazon is following suit. Although, there is not a ton of content available the picture is still amazing and with the release of the Xbox One S on August 2 a playback solution for 4K will be available. The Xbox One S will support Ultra HD Blu-ray playback and can upscale games from 1080p to 4K resolution.

What about my Internet connection? Netflix and other providers recommend a minimum Internet speed of 25 Mbps (which MVT offers, check out our new MVT Fiber) to be able to stream 4K content.

MVT loves the 4K TV technology so much we are actually going to be giving a 4K TV away in our upcoming promotion releasing later in August. Be on the lookout for BREAK FREE.

FREE Featured Apps – These Three Are Well Worth A Look



WifiMapper
Get connected no matter where you go. WifiMapper shows nearly 500 million Wi-Fi networks and over 2 million recommended free hotspots.

Learn more...



Checkout 51
Use Checkout 51 to upload your grocery receipts to show purchases of featured offers. When your account reaches $20, you get that cash back. (iOS only)

Learn more...



Word Search Little Books
Looking for a way to do word searches anytime? Well, search no more! This fun little app keeps track of your games so you can pick up where you left off.

Learn more...

Scam Alert – Watch For "Help Wanted" Scams


Go Pinterest-ing! – Cool Stuff To Pin On Your Pinterest Boards


You haven't started pinning on Pinterest yet and you want to get started? If so, click here.

Sites of the Month – Great Sites To Check Out In August

<![if !vml]>
<![endif]>Start Your Genealogy Journey
usa.gov/genealogy – Genealogy can be a fascinating hobby, and the USA.gov Genealogy and Family History site can help you pursue it. Find links to many resources, such as the National Archives, the Statue of Liberty – Ellis Island Foundation, and U.S. Census data. The site also offers options to contact experts for help.
<![if !vml]>
<![endif]>Best BBQ Recipes
bbqpitboys.com – If you love to barbeque, you'll love this site. The BBQ Pit Boys teach basic techniques for preparing moist and tender grilled food and great-tasting barbeque. Find recipes for ribs, steak, burgers, beef, chicken, pork, fish, and more. Check out the Chapters section to find other barbeque enthusiasts in your area.
<![if !vml]>
<![endif]>School Supplies Help Kids
kinf.org – Studies have shown that kids from struggling families do better in school with new school supplies of their own. The Kids in Need Foundation helps these children to be more prepared to learn and succeed by providing free school supplies. Visit this site to learn more or make a donation.
<![if !vml]>
<![endif]>Fast, Affordable Home Décor
amorq.com – When it comes to home décor, little things can make a big difference. This site offers unique ideas for quick, affordable projects you can do on your own. Try a faux antique side table or an adorable family tree graphic as a background for photos of your loved ones.

Short Tutorial/FAQ – How To Disable Facebook Live Notifications

We hope you found this newsletter to be informative. It's our way of keeping you posted on the happenings here. If, however, you'd prefer not to receive these bulletins, please see the links at the bottom of this email to manage your preferences.

Thanks for your business!

Best regards

Brad Lyon
Internet Manager




MVT
1120 N. Moapa Valley Blvd.
Overton, NV 89040

702.397.2601
©2016 Cornerstone Publishing Group Inc.

Trademarks: All brand names and product names used in this eNewsletter are trade names, service marks, trademarks or registered trademarks of their respective owners.