Two To View – A Couple Of Amazing Videos You Don't Want To Miss

Wonders On Wheels
The word "can't" doesn't exist for the wheelchair-bound dancers in this video. Watch as they participate in a beautiful ballet.

New Perspective On Hide-And-Seek
Watch from a toddler's point of view as he searches for his parents, with help from the family dog, in a cute game of hide-and-seek.
Starting Tuesday March 1, MVT will implement a new spam filtering system. You will no longer receive a daily digest showing your blocked email; instead blocked emails will appear in a spam or junk folder. The new spam filter is integrated with the email server making it easier to make changes and to find blocked email.

I've created a YouTube video below that shows you how to use the new spam filtering system.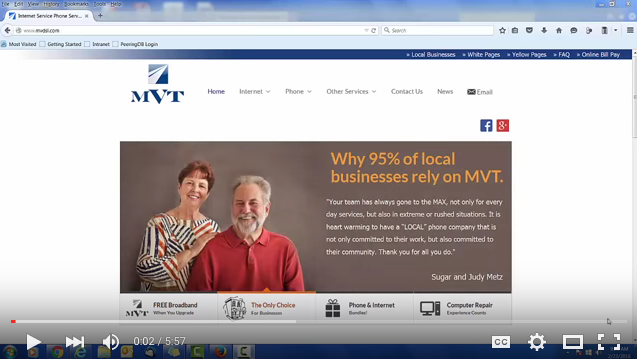 In addition to the video, I've also provided a list steps that you can follow to manipulate the spam filter. These steps are a loose translation of the video.
<![if !supportLists]>1. <![endif]>Go to the MVDSL webpage using your favorite web browser.
<![if !supportLists]>2. <![endif]>Next click on the Email link. You'll need to enter your full email address including the @mvdsl.com and your password. In the Go to box you can select either Webmail Lite or Tuxedo. For this example I will use Tuxedo.
<![if !supportLists]>3. <![endif]>After you sign in, you'll notice on the far left an icon for Spam Settings. Let's click on this.
<![if !supportLists]>4. <![endif]>The green enabled button shows you that the filter is enabled. Until March 1st this enabled status is a little misleading. The filter is enabled, but I have told it to ignore all incoming email. You'll also notice 4 setting choices. With Quarantine means that the filter will Quarantine any email that it thinks is spam. I recommend that you use one of the filtering options with quarantine. There are some cases such as when the email contains a virus where the filter won't quarantine the email. It will simply reject the email.
<![if !supportLists]>5. <![endif]>On the bottom you'll see Whitelists and Blacklists. This is one place that you can fine tune the filter settings.
<![if !supportLists]>a. <![endif]>In the Subject Blacklist Filter you can add a string of words and the filter will quarantine any email matching that string in the subject.
<![if !supportLists]>b. <![endif]>In the From Blacklist you can add an email address that you don't want to receive email from.
<![if !supportLists]>c. <![endif]>In the From Whitelist you can add an email address that you do want to receive email from. You may want to add family members' email addresses to this list.
<![if !supportLists]>6. <![endif]>Go back to the left of your screen and click on the email Icon. Next click on the Spam folder.
<![if !supportLists]>7. <![endif]>If you notice a message in the spam filter that shouldn't be there, you can click on "Allow Sender." This will do two things: (1) it will add the sender to your Whitelist and (2) it will move the email out of the spam folder and into the inbox.
<![if !supportLists]>8. <![endif]>I understand that not everyone uses Tuxedo or Webmail light to check their email. Many of you check your mail from your mobile devices, use the Windows 8 & 10 email app or use Outlook or Thunderbird. You can find your quarantined email by finding the Junk or Spam folder on your device. You might have more than one Junk or Spam folder and this is because every device connected to your email account also has the ability to create its own Junk or Spam folder.
<![if !supportLists]>9. <![endif]>If the email app/program on your device is set for POP3 you may have a spam or junk folder, but it won't contain the email blocked by our spam filter. In this case you'll need to login with Webmail Lite or Tuxedo to see your blocked emails.

FREE Featured Apps – These Three Are Well Worth A Look



White Noise Ambience Lite
Get a great night's sleep with this app. It features 21 relaxing sounds and enables you to identify favorites, create a playlist, and more.

Learn more...



Autodesk Homestyler
Use this app to help you make smarter home design choices. See what real products will look like within a photo of your space by experimenting in 3D.

Learn more...



WebMD
Get medical advice on the go with WebMD. Use the symptom checker to find out possible causes or learn about side effects of various drugs.

Learn more...

Scam Alert – Spoofed Facebook Accounts


Go Pinterest-ing! – Cool Stuff To Pin On Your Pinterest Boards


You haven't started pinning on Pinterest yet and you want to get started? If so, click here.

Sites of the Month – Great Sites To Check Out In March

<![if !vml]>
<![endif]>Celebrating Irish-Americans
irish-us.org – March is Irish-American Heritage Month, and this site is a great resource for all things Irish. Learn about the Irish American Heritage Museum in Albany, New York. Discover some delicious Irish recipes, find out how to research your Irish ancestors, and much more.
<![if !vml]>
<![endif]>Scrumptious Sweets
bakerella.com – Get ready to wow your friends and family with the bakery-quality recipes on this site. Start with Cinnamon Rolls or Double Chocolate Pancakes for breakfast and work your way up to scrumptious brownies, cheesecakes, and cookies. Oh, and how about some tarts, pies, or ice cream creations for dessert?
<![if !vml]>
<![endif]>Easy Easter Decorating
bhg.com/holidays/easter – Need some inspiration for Easter decorating? This slideshow offers many great ideas for pretty centerpieces and table settings. They include egg-shaped place card holders and beautiful bouquet napkin rings. From the simple to the ornate, you're sure to find at least one idea for your Easter table.
<![if !vml]>
<![endif]>Tons of Fun Facts
zidbits.com – Finally, the answers to all of life's pesky questions, like, "Can your hair turn white from fright?" Learn fun facts in the areas of science, health, history, entertainment, and others. Check out the Top Ten section to learn about the Top 10 Biggest Things in the Universe and much more.

Short Tutorial/FAQ – Is Private Browsing Totally Private?

We hope you found this newsletter to be informative. It's our way of keeping you posted on the happenings here. If, however, you'd prefer not to receive these bulletins, please see the links at the bottom of this email to manage your preferences.

Thanks for your business!

Best regards

Brad Lyon
Internet Manager




MVT
1120 N. Moapa Valley Blvd.
Overton, NV 89040

702.397.2601
©2016 Cornerstone Publishing Group Inc.

Trademarks: All brand names and product names used in this eNewsletter are trade names, service marks, trademarks or registered trademarks of their respective owners.