A Feeling of Community
See Our "Meet Moapa Valley" Videos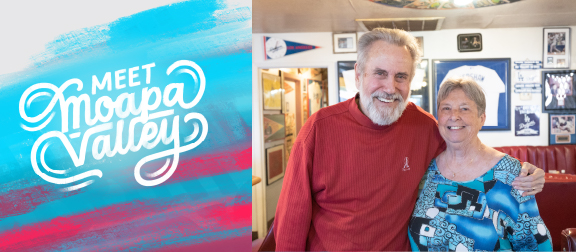 Our "Meet Moapa Valley" video series is kicking off a brand-new season! The first video this season features Judy and Sugar Metz, owners of Sugar's Home Plate. Packing up their family and leaving Los Angeles almost 30 years ago, Judy and Sugar sought a quieter life. They created a new home and business here in Moapa Valley. "My restaurant," Judy says, "is not what you'd think of as a restaurant in Las Vegas or in a big city. When people come in here, at least 50-60% of them are people that live here, and I get the chance to visit with my friends while they get to enjoy a meal."

Judy continues, "I love the feeling of community. Everybody takes care of everybody here. It doesn't matter who, what, or where you are, you can always find somebody to help you if you need help with something. That's one of the things I love most. That feeling of security that people around me care about me as much as I care about them."

See their video at MeetMoapaValley.com and feel free to share your stories of Judy, Ray, and Sugar's Home Plate on MVT's Facebook page. Stay tuned for more videos in this series.